UiPath is one of the universal robotic process automation tools. It automates almost all workflows and applications that are involved in them. Management is carried out through an interface that is intuitive for a user of any level. UI Path also has a lot of tutorials and a free version that even small companies can use.
Presentation of Sanatel Consulting services for RPA automation on the UiPath platform (Russian):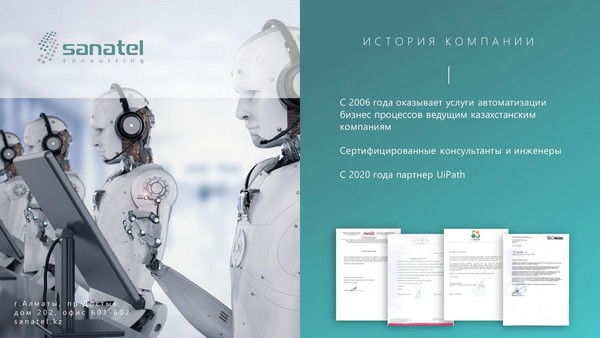 The UiPath system learns from the records of routine daily actions of users and is capable of independently:
press buttons in the system;
fill out forms;
enter applications and exit them;
work with letters in e-mail (receive, open, send and recognize the essence of what is written using OCR);
make changes to documents like Word. Exel, take data from there for reporting;
accept data in various types of files (forms, images, PDF);
make decisions with a logical sequence "if… then" and much more.
For example, if a new order has entered the system, UiPath is able to transfer user data to the required cells, add a discount if necessary (loyalty discount, for a discounted product, for a bulk order, etc.) and send the product for shipment by pressing the required button.
At the same time, there are two options for the system: automatic start and shutdown according to a schedule (back office) or manual start on the desktop using a specific key combination (front office). The second option is convenient in case of non-standard working hours, shifted weekends / working days, etc.
The UiPath robot does its job, and a person can only set work parameters, schedule, passwords and control the result. All actions performed by the robot are saved in the logs.
The tool easily interacts with both solutions developed 10+ years ago and with completely new systems. When implementing a new business process or moving to a new system, UiPath quickly learns a new scenario.
An example of a simple RPA process in UiPATH is preparing and sending personalized emails (In Russian, English subtitles).
An example RPA process in UiPath is copying a drawing into Paintbrush (In Russian, English subtitles).